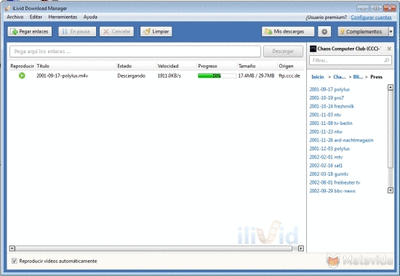 Instalation :

Awesome features that give you more


iLivid download manager has powerful features that make it the fastest and easiest way to download hosted files. iLivid includes XBMC plug-ins that let you play almost all popular audio and video formats, in any available protocol and in any media type: streaming, CDs, DVDs and RAR and archived files from your hard-drive.


Instant viewing from any source


With iLivid, you can watch any video format and download videos from downloading websites such as: Rapidshare.com, Hotfile.com and more. iLivid's Download Manager lets you start watching videos immediately without having to wait for the downloading to be completed.


Experience a better way of downloading movies


iLivid offers you an improved download experience with these great features:


A bundled VLC Streamer


Supports all popular video formats, so there is no need to convert or install codecs and extra software



Download Manager


With just one-click, you can download from all the popular download sites, including: Rapidshare, Hotfile and more
Online Video Downloader
Convert and save videos from all the popular online video sites
Built-in Accelerators
No more waiting! Start watching videos seconds into the downloading process. Download at optimal speed with downloading capacity of up to 12 accelerators
XBMC Plug-ins support

Manage all the digital media channels and watch videos in any format and in any available protocol

100% Free. 100% safe.

No registration process, no viruses- all you do is download and enjoy!